Our Mission
Our Customers: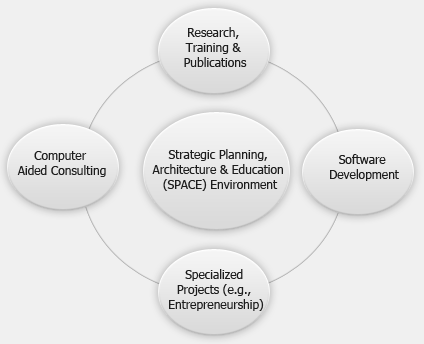 Anyone in the World, specifically the underserved sectors, who need to make informed decisions in:
Our Services
Computer Aided Consulting:
We offer computer aided consulting services to users located remotely anywhere in the world.

We use SPACE as an innovative computer aided consulting environment.
Software Development:
We develop software in the areas of mobile/location based services, B2B emarket and social networks.

We have extensive software engineering experience in Microsoft .Net Environments

We have designed, developed and support the entire SPACE environment and its components (e.g., patterns, games and intelligent advisors)
Research Training and Publications:
We engage in industrial research and offer corporate training in Strategic IT planning, enterprise architectures and integration using SOA, and wireless communications.

We use SPACE to support hands-on experiments in our training programs.

We publish technical reports and books on different aspects of NGEs (ebusiness, information security and mobile computing services).
Special Projects:
We have developed GEZA (Global Entrepreneurship Zone for All) - a knowledge portal for entrepreneurs.

GEZA leverages the gamification and computer aided planning tools of SPACE.

We are always exploring new special projects that leverage SPACE in different countries (e.g., SPACE4Nigeria) and industry sectors (e.g., SPACE4Health).