Our Mission:
To be a decision support resource for IT officials (ITOs) in the Public and Private Sectors for Mobile and Internet-based services.
Our Products - (see the Diagram)
Patterns Repository for Industry Sectors (PARIS) that capture the core knowledge needed by SPACE (almost 100 services in more than 10 sectors such as healthcare, education, public safety, public welfare, transportation and others).

Games and Simutaions that support decisions in strategic analysis, mobile services planning, interagency integrations and health exchanges, application migration versus integration tradeoffs, risks and failure management, and quality assurance.

Strategic Planning, Architecture, Controls, & Education (SPACE): An intelligent decision support tool for the IT officials in governments and the private sectors who need to actually plan, architect, integrate, and manage the needed IT initiatives quickly and effectively by using the best practices.

Planning, Integration, Security and Administration (PISA): A detailed planning tool that can be used to quickly build real life business scenarios and then guide the user through IT planning, integration, security and administration tasks by using best practices.

Global Entrepreneurship Zone for All (GEZA): A knowledge portal that provides a set of knowledge services ranging from starting a business to international partnership and outsourcing opportunities.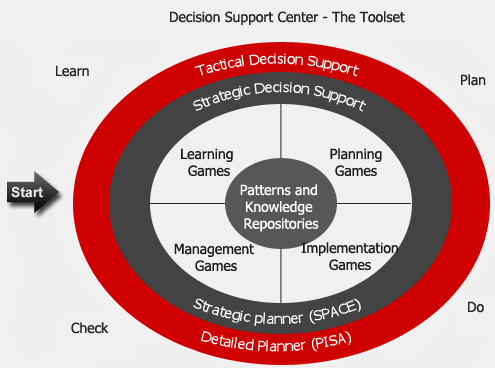 How to Get Started: